Achtung: Terminverschiebung von 27.11. auf den 11.12. (wir berichteten), die Tickets behalten ihre Gültigkeit!
Happy 40th Anniversary!
Motörhead werden 40 schenken Fans Welttournee
Also man  kriegt ja schon ein bisschen Pippi in die Augen! Motörhead lassen es zu ihrem 40-jährigen Bandjubiläum 2015 richtig krachen und bringen auf ihrer Anniversary Tour Saxon und Girlschool mit nach Deutschland – ein britisches Spitzentrio mit schweißnass-und-glücklich-Garantie!
Über Motörhead braucht man ja eigentlich gar nicht mehr viel sagen. Die Briten sind seit 1975 mit einer Mischung aus Hard Rock, Punk, Blues Rock und einer Menge Rock'n'Roll nicht nur eine der ältesten, besten und konstantesten Bands des Rock'n'Roll-Olymp, sie sind auch Vorbild und haben Einfluss auf zahlreiche andere Musiker. Schon fünf Jahre nach Gründung krachten sie mit "Ace of Spades" unwiderruflich in die Koffer eines jeden Hard'n'Heavy DJ und sind von den Bühnen der Welt auch dank der Erstlingswerke "Bomber", "Overkill" oder späterer Songs wie "R.A.M.O.N.E.S", "Going to Brazil", "(We Are) The Roadcrew" nicht mehr wegzudenken. Seit genau 20 Jahren spielt Motörhead in der Besitzung mit Phil Campbell (E-Gitarre) und Mikkey Dee (Schlagzeug) und Mastermind Lemmy Kilmister (Bass und Gesang), ein eingespieltes Team, jeder für sich ein großartiger Musiker. Obwohl Lemmy Kilmister während einer Herzinsuffizienz im Jahr 2013 stimmliche Schwächen hatte und Fans um ein Fortbestehen der Band bangten, ist er nach einer OP und einer verschobenen Tournee schon im letzten Jahr wieder stimmkräftig und fitter als im Jahr zuvor aufgetreten. Auch dass er bei mit seinem Rockabilly-Zweitprojekt "The Head Cat" wieder auf der Bühne stand zeigt, dass Lemmy fit für neue Gigs ist. Die bestreiten er, Phil und Mikkey Dee zu guter Letzt mit alten Bekannten und setzen sich erneut ein Denkmal.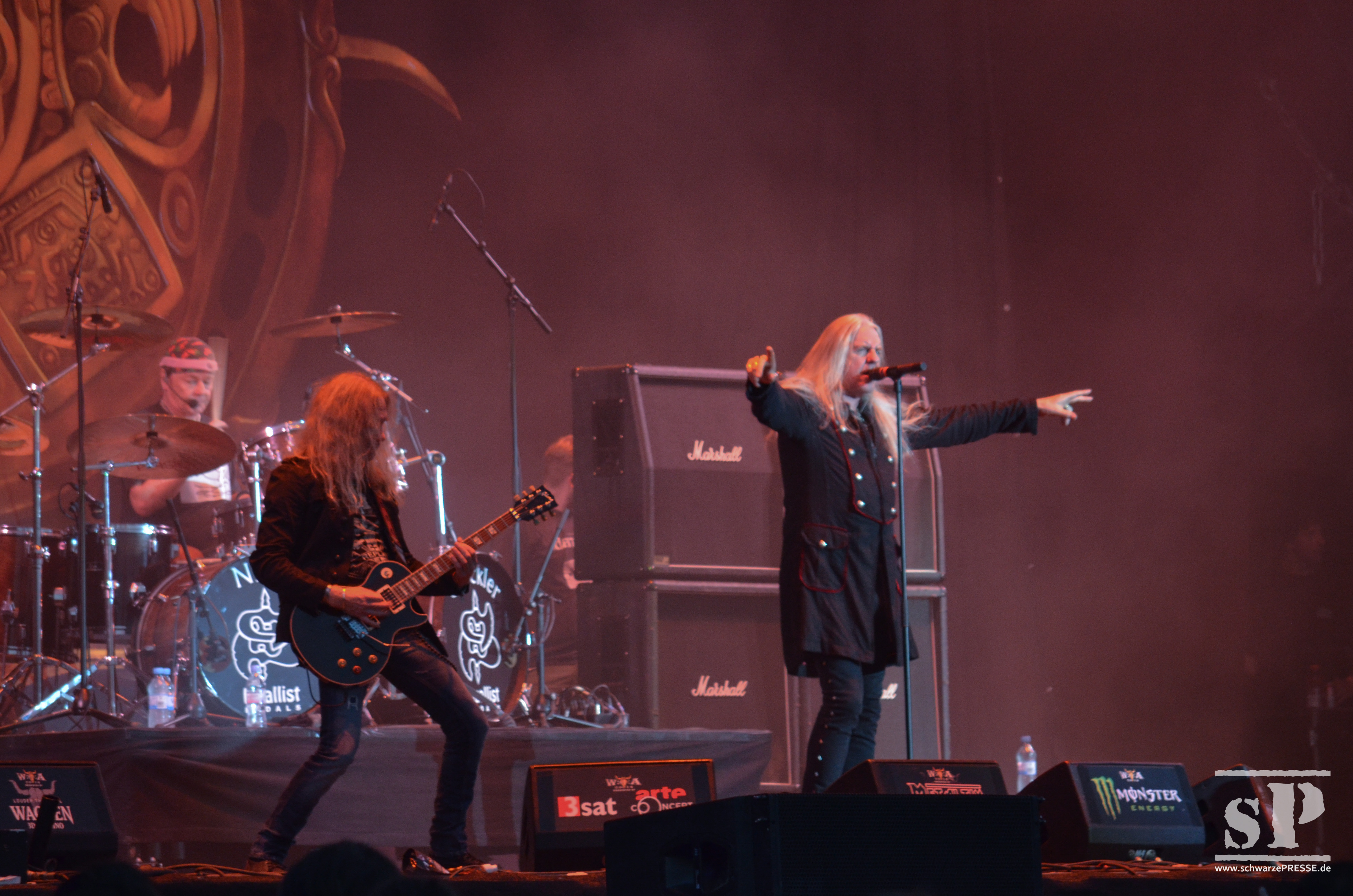 Saxon sind irgendwie britischer als britisch und neben Motörhead wohl eine der bekanntesten Bands der Insel. Zur gleichen Zeit wie Motörhead setzten sie mit "Wheels Of Steel" und "747 (Strangers in den Night)" erste legendäre Erfolge und damit Sterne an den Himmel des NWoBHM. Sie prägten den Sound entscheidend mit, schoben zahlreiche Hymnen wie "Crusader", "Never Surrender" oder "Power and the Glory" nach und sind immer noch eine Institution mit Headliner-Slots auf allen großen Festivals. Nicht zuletzt Sänger und Mitbegründer "Byff" Byford setzt mit seiner steinstarken Stimme, schicken Outfits und seinen grauen langen Haaren eine echte Präsenz auf die Bühne. Saxon kriegen dich im ersten Moment und haben dich bis zum Ende ihres auf Headlinertouren auch mal zweistündigen Gigs fest in der Hand.
Girlschool gibt es bereits seit 1978, wobei sich die Wege zwischen den Britinnen und Motörhead spätestens 1981 bei einer gemeinsamen EP-Produktion kreuzten. Mit King Diamond, Mercyful Fate, Gary Glitter, Blue Öyster Club und Motörhead tourten die Ladys um die Welt, prägten sich ein Image zwischen Glam Rock und der New Wave of British Heavy Metal und spielen noch heute große Festivals. Für Motörhead-Fans sind sie sicher nicht nur aufgrund dem Lemmy-Tribute "Don't Talk To Me" ein Begriff und definitiv sehenswert.
Unsere Bilder vom letzten Besuch von Motörhead in Berlin.
Was? Motörhead und Special Guests Saxon & Girlschool
Wann? (NEU!) 11.12.2015, 19 Uhr
Wo? Max-Schmeling-Halle, Berlin
Infos und Tickets z.B. bei mlk.com oder an allen bekannten Vorverkaufsstellen