14.NCN Festival 2019 - NOCTURNAL CULTURE NIGHT
Im September 2019 geht es zum nunmehr mit dem 14. NCN Festival im KULTURPARK DEUTZEN weiter!
Kurz vor den Toren der Stadt Leipzig ist der idyllische Kulturpark Deutzen im gleichnamigen Ort gelegen.
Dies ist die Heimat des sehr beliebten und wunderschönen Festivals NCN. Trotz seiner Größe und Bekanntheit ist und bleibt das Festival der schwarzen Szene familiär und naturnah geprägt.
Es gibt die Möglichkeit zu zelten oder jeden Tag mit den beliebten Shuttle Bus aus Leipzig an zu reisen.
Die Gäste erwartet vier verschiedene Bühnen im naturnahen Kulturpark mit einem reichhaltigen und sehr gut gemischten Programm dazu auch einen sehr großen Freisitz im Kulturpark mit 300 Sitzmöglichkeiten.
Auch gibt es wieder die bekannten und beliebten Händlerstände sowie den Gastroständen mit verschiedenen Angeboten an Speis und Trank.
Wie ist das Preis/Leistungsverhältnis ausgewogen, die Atmosphäre locker und die Wege kurz!
Wir freuen uns auf ein schönes Festival, bis bald!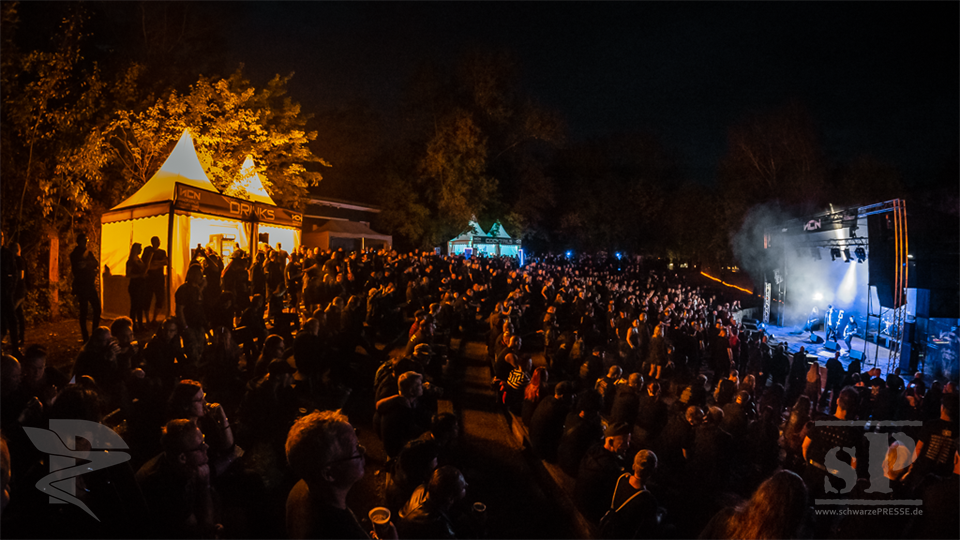 Datum: 06.09.2019 bis 08.09.2019
Ort: Kulturpark Deutzen: https://www.nocturnal-culture-night.de/location/kulturpark-deutzen/
Karten NCN Festival: https://www.ht-events.de/festivals/nocturnal-culture-night.html
Anreise und Shuttleservice NCN Festival: https://www.nocturnal-culture-night.de/information/anreise/mit-shuttleservice/
Alle Neuigkeiten NCN Festival: https://www.nocturnal-culture-night.de/
 Line Up: ca.60 Bands und Künstler auf 4 Bühnen (Amphibühne, Parkbühne, Kulturbühne, Weidenbogenbühne)
A PROJECTION
ACTORS
ADAM IS A GIRL
ANY LEAVE
ATARI TEENAGE RIOT
ATOMIC NEON
BLACK NAIL CABARET
CLAN OF XYMOX
COVENANT
CRYO
DE/VISION
DEPERATE JOURNALIST
DEUTSCHE BANK
DIE SELEKTION
FADERHEAD
FIELDS OF MIDLEW
HA BELEX
HAPAX
HÄTZER
HAUJOBB
HEAVEN 17
IN GOWAN RING
IN SLAUGHTER NATIVES
IN STRICT CONFIDENCE
JOACHIM WITT
KAELTE
LAIBACH
LES BERRTAS
LIZETTE LIZETTE
MINUIT MACHINE
MONOLITH
MOTOR!K
NEUN WELTEN
NEUROTICFISH
NO MORE
PARZIVAL
PINK TURNS BLUE
PLACEBO EFFECT
PLASTIC AUTUMN
PORTION CONTROL
ROSI
RROYCE
SCREAM SILENCE
SHE PAST AWAY
SHIV-R
SIX COMM
SONNENKIND
SPARK!
STATE OF THE UNION
STILL PATIENT?
STONEMAN
THE ARCH
THE CASCADES
THE KVB
THE NEGATIVITY BIAS
TOMMI STUMPFF
TRAITRS
WAYNE HUSSEY
WINTERKÄLTE
WIRES & LIGHTS
WOLFGANG FLÜR
ZWEITE JUGEND